Commercial Properties Division
Titan Systems, Titan Service.
Your property managed your way.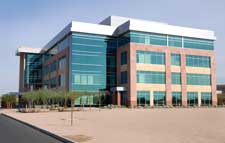 TPM provides professional management for strip centers, retail, office, mixed-use and industrial facilities.
When your property is well managed, you attract higher quality tenants who take pride in being your tenants. Our goal is to balance expenditures that increase perceived value with achieving the owner's net operating income (NOI) goals. We customize our strategic management plan for each property based on the owner's expectations for the property and our analysis of physical, financial and market factors.
Our specially trained commercial property managers are here to protect and grow your investment.
Services for Commercial Property Owners
When you work with TPM all the financial and administrative details are taken care of. You'll also notice that we pay extra attention to the service side of our business.
Owner FAQs
When can I expect my report and check to be sent to me every month?
We disburse owner's funds along with a detailed report typically between the 10th and the 15th of every month, no later than the 20th. If you would like, we can direct deposit your funds directly into your bank account and email your report to you with all invoices that were paid. The only reason you would not receive funds at this time would be if your tenant has failed to pay rent. We will contact you and let you know of the pending status of your tenant's payment. Owners of larger multi-unit properties may request multiple reports during the month as lagging rents are collected and accounted for.
Inquire About Our Services
(916) 745-3385
Why Work with Titan Property Management in Sacramento
Areas We Serve